Stay Ahead Of Your Business.
The mobile phone market place is nothing if not volatile. To keep competetive, you need to keep ahead of market trends and closely monitor the introduction of new packages and services. SICAP Statistics provides all the reporting facilities required to achieve this, offering convenient access to the important information generated by your system in a flexible and powerful way. With SICAP Statistics, you are able to analyse your customer base, their reloading and calling behaviour, and their use of value added services. And all these statistics may be broken down in appropriate ways: call data, for example, may be reported by MSISDN, prepaid voucher use may be reported by batch, or voucher value. A number of standard reports are provided, but you may also define your own, giving you total control of the information residing in your system. Furthermore, SICAP Statistics puts you in control of the distribution of this information, allowing you to set up periodic reports that are emailed to a restricted list of personnel as well as providing direct access to current data over the Web.
Features
SICAP Statistics is designed to work in collaboration with SICAP Prepaid System. It collects information from all installed modules, from SICAP Prepaid Voucher to SICAP Prepaid Roaming, and produces reports that are tailored to the needs of different stakeholders, such as your Customer Care, Financial and Product Management departments. Both online and offline statistics are supported. Specific reports may be broadcast daily, weekly, or monthly to specified distribution lists. Alternatively, real-time information may be accessed using a standard web browser. Your data may be combined in whatever arrangement suits your monitoring and forecasting needs. Access is controlled using the standard SICAP user rights system. This means that you can control the availability of information both internally and externally; access might even be selectively granted to your value-added service providers, allowing them to analyse the usage of their services over your network. A simple tabulated reporting structure is used so that further processing may be performed using standard spreadsheets or other statistical analysis programs.
Architecture
SICAP Statistics contains the following components: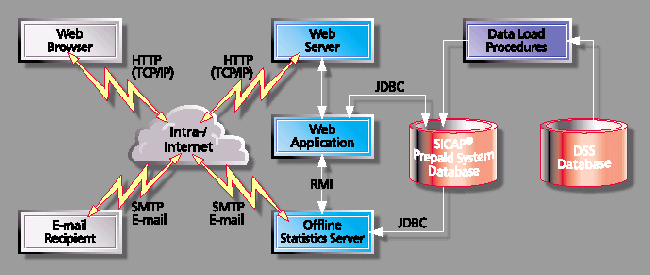 Data Load Procedures for collecting and producing aggregate statistics data from your system's database.
The data load procedures are automatically invoked at fixed specified intervals, usually daily.


Web Server and Application for providing access to up-to-date statistics using a standard Web browser. Version 4 or later browsers from Microsoft (Internet Explorer) or Netscape (Navigator) may be used.


Offline Statistics Server for processing scheduled report requests and emailing them to specified
distribution lists.
Reports
The following examples show the range of reports available within SICAP Statistics:
Customers: Statistical data concerning registered customers, their age, language or status.


Product Management: A monthly report concerning reloads, their value, the reload channel used, a breakdown of calls made and value-added services used.


MSISDN: Statistical data about continuous or defined blocks of MSISDNs and their status. Prepaid Roaming: A report on prepaid roaming calls, the countries, and the operators that were used.


Service Providers and Distributors: Statistical report of income generated by each service provider, whether internal or external.


User defined reports: The user may generate a variety of different reports by taking different views upon the data and arranging them in a way that is meaningful for their particular needs.
Offline Reports
SICAP statistics supports a list of predefined queries. Each query is owned by a particular user group and consists of a number of parameters. The owner of the query determines those stakeholders to whom the report is shown and those from whom it is hidden. The parameters and their values are used to complete the query dynamically with the same query able to solve different questions. The parameters can define time ranges, the data sets involved, and the way those data sets are grouped. All predefined queries and their parameter definitions are stored in the database. A regular check is made on the queue of scheduled off-line reports. When a request is due, the data is arranged according to the stored parameters and the resulting report is emailed to the pre-configured list of recipients. Appropriate supervision programs are included for viewing the status of the offline statistics server and for reporting processing errors.
User Management
The native security system is used to authorise access to the SICAP Statistics database. To run offline statistics, each user needs a defined e-mail address. On-demand processing of requests uses the individual's address, while automatic processing use the e-mail addresses of all the users in the specified user group. Each client user group has a unique distributor identifier which is used to control and monitor access by service providers and distributors.